This Giveaway is now closed. Thanks for stopping by.
What is a Scandle Body Candle® you ask? This is a candle that burns at 2 degrees above body temperature and produces a soothing healing body oil. The Scandle may be used for massage, cuticle treatments for manicures/pedicures, or as an everyday moisturizer. A candle that can also be used as a massage oil? (They had me at candle.)
The Scandle Body Candle is another unique gift idea for you Mom! For Mother's day!
Thank you Charlie for sending me the Scandle Candle Travel Tin in the Uplifting Blend for this review and giveaway.
From abodycandle.com
- Are you fond of body massage oil and fragrant spa candles? What if you could combine them both into a massage oil candle that combined the potent scent of a candle with the comfort of an essential oil massage lotion? Our Scandle body candles do just that, beginning as a delightful soy candle that melts into a wonderful body lotion suitable for skin care or as a soothing massage lotion. There is nothing quite like a body candle massage, with the wonderful aroma of our massage oil aromatherapy candles working equally well as a room-enhancing scent and as a aromatherapy soy lotion for your skin. Consider a soy body candle for massage purposes, or just use one of our massage candle varieties for aromatherapy purposes—our spa candles have many uses, and are sure to become your favorite body lotion candle.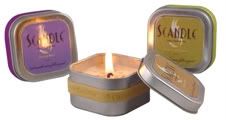 The Review – The Scandle Travel Tin is 2 ½" x 2 ½" – a nice small travel size. The travel tin has a silicone band that reads Reduce – Reuse – Recycle, reminding the consumer to "think green". According to the company, the candles are healthy for the environment - emitting less soot and toxins into the environment than parrafin candles.
I burned the Scandle Candle for thirty minutes, until it melted to the edge of the canister. This ensures an even burn each time. I extinguished the flame and touched the oil. I honestly expected the oil to be very hot to the touch, but as the company indicates, the candle burns at only 2 degrees above body temperature and the body oil simply felt warm. I massaged some of the oil into my arm and it felt nice. The aroma of Uplifting Blend was a subtle clean scent. After about twenty minutes, I checked my arm. It felt moisturized and smooth, not at all greasy.
I plan to burn the candle again and massage my dry cuticles. I foresee a nice body massage in my future as well! This candle will burn for up to 30 hours. That is a lot of massages! If you love candles like I do, you must add the Scandle Candle to your collection and get more use out of your candles (wink wink)!


But It:
The Scandle Candle Travel Tin is available online at
www.abodycandle.com
for $13.95.
This Giveaway is now closed. Thanks for stopping by.

Win It:
The winner will receive the same aromatherapy Scandle Candle Travel Tin in the Uplifting Blend scent. There is just one easy, mandatory entry!
Mandatory Entry:
Please visit
abodycandle.com
check out the products in their Scandle Store and leave a comment about which product caught your eye.
Additional (optional) entries:
Eligible after completing mandatory entry above: You can do any or all of the following for one entry each. Please leave a separate comment for each that you have done. As always, please include your email address in your comments!
1. Follow my blog.
2. Follow me on Twitter.
3. Tweet about this giveaway.
4. Grab my blog button and place it on your side bar. (Leave a link to your blog.)
5. Follow me on Networked Blogs.
6. Follow me on Facebook.
7. Mention this giveaway on Facebook.
8. Write a post about this giveaway on your blog. (Leave a link to your blog.)
Giveaway ended on May 6, 2010 at 11:59 PM EST.
Open to US addresses only. Winner will be chosen by random.org and contacted by email. Please respond in 48 hours or a new winner will be chosen. To be fair to everyone, comments not meeting requirements will be deleted.
Many thanks to Charlie for the review and giveaway Scandle Candle Travel Tins.
The product(s) featured in this review were provided free of cost to me by the author, the manufacturer, or representing PR agency. Opinions expressed are my own and are NOT influenced by monetary compensation.