Everybody strives to have healthy hair. I have coarse, naturally curly hair that I blow dry straight at least every other day. As I have gotten older, I have noticed my hair is not only getting thinner, it appears to be getting drier, duller, and frizzier than I ever remember.
Could it be the fact that I have color treated my hair for several years? Maybe it's my hormones, choice of shampoos, damage from blow drying, or the salt and sweat from exercise. Most likely it is a combination of all of these things that have had a negative influence on my hair's condition.
I am always in the market for hair products that can add more shine, straighten, eliminate my hair's frizz caused by humidity and friction and overall, make my hair look healthy. That's a tall order for a hair product!
Imagine my surprise when I discovered Living Proof – a no frizz styling treatment for thick, coarse hair. Thank you Ali for sending me a sample of Living Proof's no frizz styling cream.
From Living Proof –
"No Frizz styling treatment is part of a new collection of breakthrough, anti-frizz products which contain the first new frizz-taming technology in over 30 years. Invented by Living Proof scientists, PolfluoroEster is a new, proprietary material not found in any other beauty products that creates an extremely thin barrier on hair and eliminates the main cause of frizz. Humidity is prevented from penetrating the hair shaft and friction between hair fibers is reduced for the most effective anti-frizz action.
This rich, conditioning daily treatment provides optimum frizz-reduction and conditioning benefits for thick coarse hair, without weighing it down. The NO FRIZZ Styling treatment is available in two formulations: Straight Making for women who prefer straighter styles, and Wave-Shaping, Curl Defining for women who prefer to refine their natural curls and waves.
The Review:
I really put this Living Proof product to the test. Let me set the stage. I usually wash my hair every other day. However, last night I was out with my best friend for margaritas and South-of –Border appetizers and naturally I blew my diet. This morning I had to jog on the treadmill to make up for it. My hair was wet with sweat and I was washing it for the second day in a row! When you already have dry, frizzy hair, this is a sin!
I used a dime-sized amount of Living Proof on my damp hair and really worked it in. I blow dried my hair and was pleasantly surprised with my results. My hair had a nice shine, little to no frizz and looked healthy. Here is how it came out.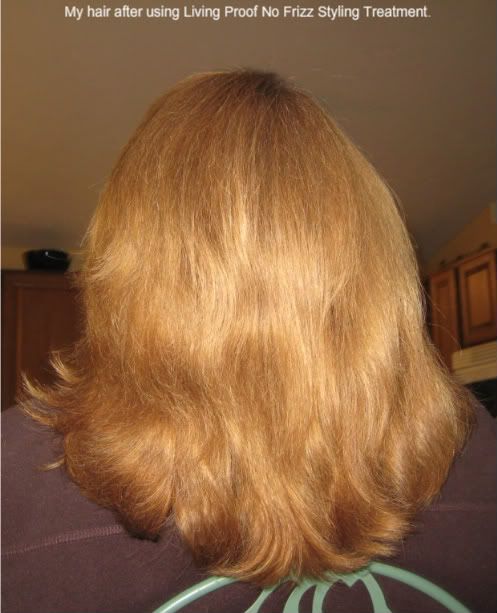 Please note that I only used a dime-sized amount. The directions require using a dollop or at least a quarter-sized amount. Unfortunately, I read that after using the product. Now I know. Also, in all fairness, the air was not humid, which normally causes excessive frizz. I was impressed at how conditioned and shiny my hair appears. (I only used a blow dryer.) Next time, I will use a generous amount of the product and the result should be shiny, no frizz, healthy hair!
Living Proof No Frizz Styling Treatments are available at Sephora stores nationwide, Sephora.com, QVC.com and
www.livingproof.com.
The product(s) featured in this review were provided free of cost to me by the author, the manufacturer, or representing PR agency. Opinions expressed are my own and are NOT influenced by monetary compensation.