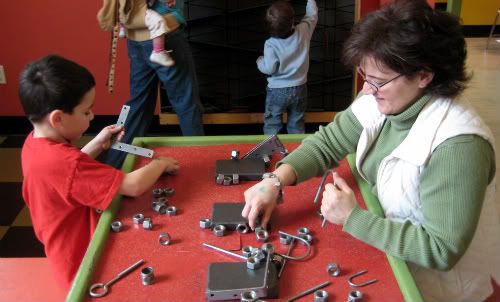 What is it about magnets that can keep adults and kids alike busy "playing" for hours? Well, maybe not hours, but certainly minutes. Here my son and his auntie Gisele are enjoying a hands-on exhibit at the Children's Museum in NH that features magnets of all sizes.
The CyberCube is a very portable "mini-exhibit" of magnets that is meant to challenge with it's many puzzles. Thank you to Nicholas for sending me a CyberCube for this review.
From CyberCube:
The CyberCube is a revolutionary new puzzle of the future that has an infinite number of solutions and guarantees amazement and hours of fun!
You will be astonished with the number of ways you can play with the CyberCube not only can you build, you can create fun games. Build anything you can imagine, from a simple square to a motorcycle. Continue to challenge yourself, If you see something, try to build it.
The flexibility and strength of the CyberCube is phenomenal, it will give you the whoa factor every time! Nothing will hold you back building and playing with the CyberCube. Once you get your hands on the CyberCube you will never want build with anything else. We guarantee you'll love the CyberCube!
The Review:
I received the 224 piece black CyberCube for this reivew. The CyberCube arrived in its little black tin in a perfect cube. I took a moment to admire it, thinking that we would never get it into a perfect cube again. Everybody grabbed for it, played with it, and played with it some more, and it wasn't until quite a while later that I finally got a chance to check it out.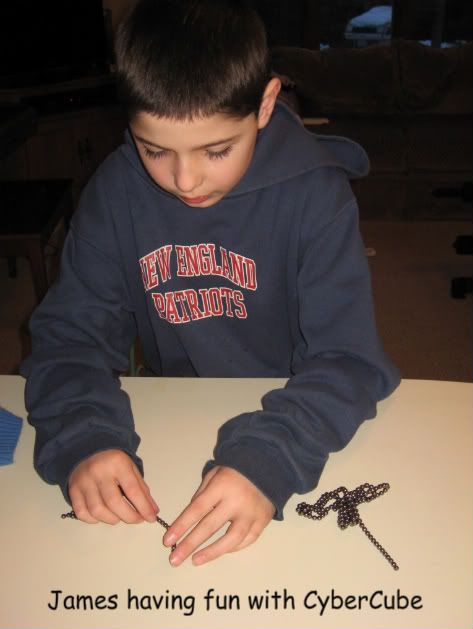 CyberCube claims the strength of their product is phenomenal, and that is not an overstatement. The attraction is so strong, that manipulating the magnets took effort. Although we all tried, no one has been able to put the CyberCube back into its original cube! I think once we master that, we can attempt the Celtic Cross, the Hope Star and the Royal Neckwear designs shown on the insert.
In the meantime, I wonder if the folks over at CyberCube would be impressed with my two creations:
Hey, I have to start somewhere right?
Here is a short video demonstration of the CyberCube by my niece Marie.
The CyberCube isn't for children under three, due to its very small round magnets. It is certainly a challenge for those inclined to solve its many puzzles, and for the rest of us that just like playing around with magnets, the CyberCube is a lot of fun!
Buy It:
The CyberCube featured in this review is available for purchase on the
CyberCube website
for$24.95.
Win It:
Thanks to Nicholas at CyberCube, one of my readers will get to have some fun with their very own CyberCube! To Enter is easy. Just one mandatory entry:
Mandatory Entry:
1. Become a fan of CyberCube on
Facebook
and post a comment there stating why you would like to have a CyberCube and
mention you are entering via Moms Own Words CyberCube giveaway
. Please come back here and simply comment that you became a FB fan of CyberCube and commented.
Extra Entries:
Additional optional entries:
Eligible after completing mandatory entry above
: You can do any or all of the following for one entry each. Please leave a separate comment for each that you have done.
2. --Follow my blog (see the right side bar to sign up) Already a follower, just leave a comment saying that you are a follower.
3. --Subscribe to my blog (see the right side bar to sign up) Current subscribers are eligible too.
4.--Follow me on
Twitter
. Current followers are eligible too, just leave a comment saying that you are a twitter follower.
5.--Tweet about this giveaway and leave a link to your tweet (Can tweet once daily).
6.--Post my button on your blog and leave a link to your blog.
--FOR 5 EXTRA ENTRIES -
Write a blog post about this giveaway, with a link to my blog. Come back and leave the link to your blog post. Post FIVE separate comments that you've blogged about this.
Giveaway ends on March 24th at 11:59 PM EST. Open to US addresses only. Winner will be chosen by random.org and contacted by email. Please respond in 48 hours or a new winner will be chosen. To be fair to everyone, comments not meeting requirements will be deleted.
Many thanks to Nicholas for the review and giveaway Cybercubes!


The product(s) featured in this review were provided free of cost to me by the author, the manufacturer, or representing PR agency. Opinions expressed are my own and are NOT influenced by monetary compensation.