Take moment to assess your bathroom. Are your counter tops covered with toothpaste tubes, bottles of hair products, and various containers? Is your linen closet door ajar, because it is stuffed to overflowing with linens and bath towels? No problem! There are inexpensive storage solutions that can effectively tackle the clutter.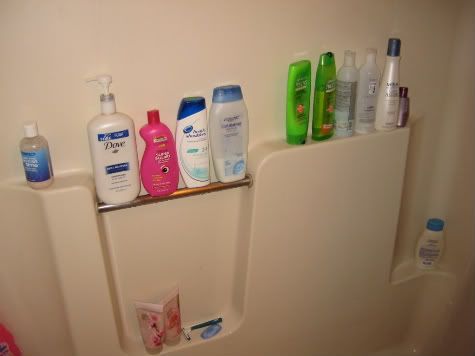 My bathroom, having limited space, used to look like that, but I sorted through those eighteen bottles of shampoo, the hair products, mouth rinses on the counter, the cleaning products crammed in the cabinet, and the towels falling out of the linen closet. I got rid of what I didn't need and discovered some solutions for organizing the necessities.
Tub Storage Solutions
Shower Curtains with Pockets - Shower curtains with pockets are a great solution for storing my kids' tub toys. While mesh bags are a storage option, I didn't really like them, because I was the only one that would put the toys back in them!
I tried a plastic bin. The tub toys were piled in a bin that sat on the bottom of the tub in everyone's way. While they were contained, I didn't find this to be an ideal storage solution.
I thought the shower curtain with pockets looked like a great solution. Once I had the shower curtain hung, I took the toys that were keepers and put them in the lower pockets, where my youngest could reach them easily. The routine of putting the toys back in their pockets is a way of getting organized that he is happy to help with!
No more looking at or stepping on tub toy clutter. The toys aren't visible, because this curtain acts as the liner and it is hidden by a decorative outer curtain. The pockets can be used to store anything like shampoos, razors, and soaps, not just tub toys!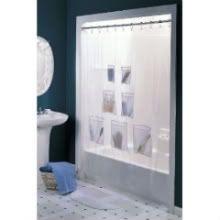 Shower Caddies -
Using the right shower caddy can make a big difference in the appearance of your bathtub. In the past, I tried those cheap caddies with the suction cups, but they never stayed in place. This can be maddening!
Fortunately, the shower caddy engineers came up with a great solution: the shower caddy floor to ceiling unit. The tension rod shower caddy organizes our entire family's bath and shower products neatly in the corner of the tub.
The adjustable tension rod fits floor to ceiling or tub rim to ceiling. The four baskets with convenient drain holes hold a lot of necessities, but not water.
While we certainly don't need eighteen bottles of shampoo, we do have different needs: tear free shampoo for the kids, the overpriced salon shampoo for Mom, and the dandruff shampoo for Dad (ha). These are all neatly organized in the shower caddy, which in our bath extends from tub rim to ceiling.
The unit is very sturdy, easily staying in place, even when storing those heavy value size shampoos and conditioners. It is now easier to clean the bathtub without all those bottles of shampoo lining the sides!
Extra Linen Storage Solution
Storage Cylinder - When the kids were younger, they needed constant supervision while in the tub, so we put a chair in the bathroom to sit and watch them. Now that the kids are older, they are capable of independent bath-time, and the chair, seldom used, was simply taking up space.
The storage cylinder was the perfect solution for us because we have the room for it, it still doubles as a seat, and it allows for extra storage. We have several of our bath towels neatly stacked inside.
Now, my five-year-old can grab his own towel, and the linen cabinet door now closes the way it should! Now that's home organization in a snap!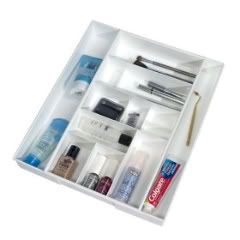 Cabinet and Drawer Storage Solutions
Drawer Dividers - I'll admit that my vanity makeup drawer was a disheveled jumble of foundations, eye shadows, eyeliners and eyelash curlers. You name it, it was in there… somewhere. This was not ideal. If anyone visiting peeked in there, I would have been mortified!
Thank goodness for drawer dividers. Drawer dividers are an inexpensive way to maintain order within your makeup drawer. You could even use a silverware tray to neaten things up, if it had enough dividers for your needs.
Simply go through your makeup drawer and determine if you will ever use the product again. If you haven't applied that indigo eye shadow since the 90ies, do the right thing and just let it go! Sort and organize the items that you use on a daily basis neatly in their designated locations. No more searching for your eyeliner. Think of the time you'll save in the morning!
Spice Racks – Spice racks are not just for spices. The right sized spice rack can be placed in your drawer and be a great storage solution for items like nail polish and makeup as well.
Magnetic strip placed inside of a Drawer –To store my small metal items, I installed a magnetic strip to the inside of my drawer. It is actually a magnetic knife bar. Your small metal items like nail clippers, files, and tweezers will always be there when you look for them. Make sure the kids know that the nail clippers are located here, they may be more inclined to put them away in this "cool storage place" when they are finished using them.
Specialty Pull Out Drawer Units - Before my organizational efforts began, if you asked me what was under my bathroom sink, only four or five items would come to mind. The rest of the stuff was several years old and utterly forgettable. I learned this is a good guideline for what you should pitch: those items that are so old you didn't even realize that you had them.
After sorting and pitching, I determined I have two categories of items that made sense to store here: cleaning products and hair products.
Pull out drawer units are manufactured in various widths and heights, so finding one to fit your cabinet is easy. I used a two-tier unit on the left and a single pull out for the wastebasket on the right. For the two-tier unit, I stored hair products (that I do actually use) on the top shelf and cleaning products below. This system has worked wonderfully. In the process, I moved many of those hair products that were on the counters into their new spot, eliminating the counter clutter.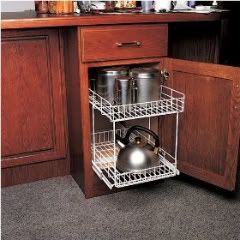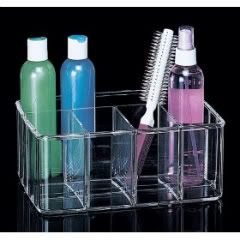 Counter Storage Solution
Acrylic Vanity Organizers – The various sized acrylic organizers are perfect for organizing those items that I use daily, and that I really need to have handy on the counter top. While my stuff is visible, it is organized in its pretty container! No clutter here!
There are many great options available for storing your bathroom necessities, and these are just a few ideas that have really helped me to tackle the bathroom clutter. Now onto the next room!
Amazon carries all of these great storage and organization solutions. Here are some quick links to the items featured in this article:
This post is based on my opinion and my experience using these products. I received no compensation for posting this article, however, I do maintain affiliate status with Amazon.com.