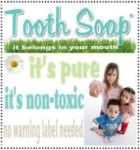 Click here
to find out how to participate in Friday Follow!
Check out the Friday Follow Sponsor!
No need to fear the dentist anymore. You can reduce the visits and make your dentist happy too. Brush with Tooth Soap®. Non-toxic, sustainable, organic and no need for a warning label. Created by a mom who has kids with no cavities. Get more information at: http://www.toothsoap.com/special-offers.
Thanks for your comments and follows!