It seems like no matter what I type into the Google search box, I come up with
too much
irrelevant stuff, like um....
advertisements
for starters! Not surprisingly, there are different ways to conduct Google searches that just may save some time spent on research. I just have to get into the habit of using them!
Did you know that using quotation marks around a phrase or person's name can eliminate many of the irrelevant links that would otherwise turn up? To find an exact, verbatim phrase, simply use quotation marks. For example type "vegetarian recipe".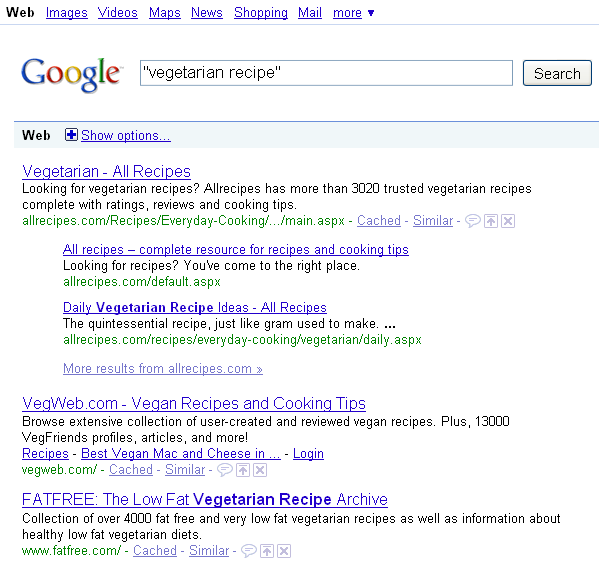 According to Randolph Hock, author of
The Extreme Searcher's Internet Handbook
(available on Amazon.com for $13.34) narrowing and filtering your Google searches by using quotation marks is just one of many simple tips for improving Google search results. Here are Randolph's tips on the best way to Google for optimum results:
PDf
's Excel Spreadsheets, or Power Point Presentations
To find
PDF
's, Excel spreadsheets or Power Point presentations simply type in
filetype

:

pdf
,
filetype

:

xls
, or
filetype

:

ppt
. For example, to find a
pdf
of healthy recipes type:
healthy recipes

filetype

:

pdf
. Google will show relevant
pdf
files.
Narrowed Down Information
To find narrowed-down information use a hyphen (minus sign). For example, if you want to find information about Eagles, as in the animal, not the football team and not the band, type:
eagles –football –band
. Type a space before the hyphen, but not after.
Online Product without Web Address
To find a product that you saw online, but can't remember where, use the word
intitle
in your search. For example type:
intitle

:"

ugg

boots"
. Don't put a space after the colon and use quotation marks around the phrase.
While you are here, try some of these tips in the Google search box on the right!