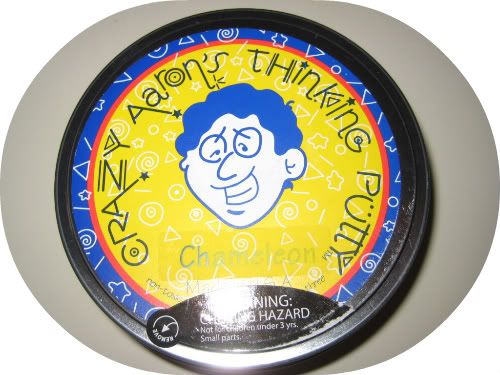 What is Crazy Aaron's Thinking Putty? It is a multi-purpose toy for adults. (Not
that
kind of toy.) Crazy Putty is a
desk toy
designed for adults to relieve stress, strengthen hands and (hopefully) spark creativity by keeping hands busy and thoughts flowing.
When I saw Crazy Aaron's Thinking Putty, I knew I wanted to check it out. The putty is available in over
thirty
different colors, including metallic and electric swirl. I was curious to see if it could do all that Crazy Aaron promises, or at least entertain me during breaks from the computer! Thank you to Elizabeth at "Puttyworld" for promptly sending me a sample of Crazy Aaron's Thinking Putty.
From Crazy Aaron's Putty World:
"Thinking Putty is Made in the USA which puts consumers' minds at ease. It makes a great stress ball. It is also excellent as a therapy putty for stiffness or as an exercise putty for hand strengthening. As a desk toy you'll find you aren't able to put it down. These are all reasons why Thinking Putty puts other marketing gifts and promotional toys to shame. When you use it as your next promotional gift, your customers will rave! I guarantee it!" - Crazy Aaron.
The Review:
The thinking putty arrived in a 4" diameter tin with a colorful caricature of Crazy Aaron's face. The putty I received is the heat sensitive hypercolor called "Chameleon." Heat sensitive means that the putty changes colors from the warmth and cold from your hands. As you can see in the pictures, the putty does change to a lighter shade of green from the heat of my hand. Cool.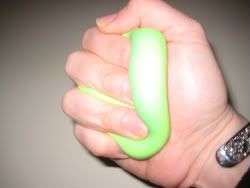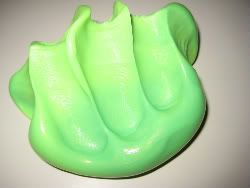 The putty reminds me of silly putty. It has the same consistency and feel.
Along with the putty, I received three cards: a card with several hand exercises, and two others with pictures and ideas showing me all the things that I can do with my new toy. I put the putty to the test according to each idea. With success, I was able to stretch it, pop it, bounce it, tear it, snap it and knead it. Popping it is quite fun. (I used to do that with silly putty, as a kid!)
Exercises are shown for fingers, thumbs and the full hand (full hand grip, shown above). I tried each of the exercises successfully and easily- my favorite is the full grip, which, to me, is the best putty exercise for stress relief.
The putty is also available in a magnetic color. In addition to relieving stress, the magnetic color will lift small metal objects.
I am glad that my kids have not discovered my thinking putty, and I intend to keep it that way! It will stay right on my desk for those times when I need to take a little break and relieve a little stress. Who knows, maybe it will keep my hands away from the cookie jar. (I can dream can't I?)
Whether you work at home or at an office, this little stress relief ball does all that Crazy Aaron promises, and it will make a fun addition to your desktop!
Buy It:
Crazy Aaron's Putty (in Chameleon) is available for purchase at
Puttyworld
for $9.95.
The product(s) featured in this review were provided free of cost to me by the manufacturer or representing PR agency. Opinions expressed are my own and are NOT influenced by monetary compensation.