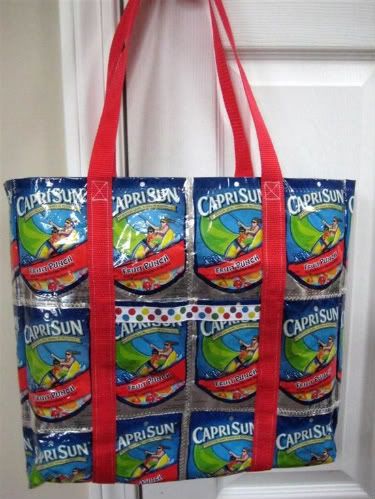 This giveaway is now closed and a winner will be announced momentarily. Thanks to all who entered!
If you have kids in grade school like me, you've probably bought hundreds of them: Capri Sun and Kool Aide juice pouches, box after box. While some schools do recycle the juice bags for fundraisers, some creative moms, like Gisele at
RebaggingIt
(her Etsy Shop) are recycling and sewing the bags together into some
very clever items.
Thank you Gisele for sponsoring this review and giveaway of the recycled (Capri Sun) juice bag, multi tote shown above!
This multi tote is made of recycled (fruit punch) Capri Sun juice pouches. The bag measures: height-13", length-13", width-3". The handles measure 11" to the center point. The side pocket between the straps has multi-colored polka dot trim and fits a cell phone, keys or papers. The tote is water resistant, and will wipe clean with warm, soapy water.
The Review:
The bags are carefully washed/sanitized and I was impressed at how super clean the tote is inside. This tote is a great size for schoolbooks, papers and even several grocery items. The bold red, blue and green colors are eye-catching and vibrant. The straps are made from a strong nylon strap material and are sewn with an X-box stitch reinforcement, which confirms that this tote can handle the weight of several books easily.
During the summer months, I plan to use mine as a beach tote - it's the perfect size for a towel, sun-screen and a book! In the case of bad weather, the bag is water resistant too. This unique bag is definitely a conversation starter. The tote is an eco-friendly product that makes a statement about green living. I appreciate and value that!
But it:
This multi tote bag is selling for $30 at
RebaggingIt's Shop
at Etsy.com.
Giveaway:
Win this recycled juice bag tote! To enter is easy!
1. Mandatory entry –Visit Gisele's RebaggingIt Shop, check out the other items made from recycled juice bags and comment on which item(s) you like. Please leave your email address in your comment.
Please leave comments w/ your email for all additional entries:
2. Follow my blog. (2 entries)
3. Grab my button and put it on your site and add a link in your comment telling me where it is. (3 entries)
4. Tweet about this giveaway and leave the Tweet URL in a comment. (2 entries)
5. Subscribe via email. (3 entries)
6. Sign up for Networked Blogs (Facebook - located on the right side) (2 entries)
This Giveaway is open to U.S. and Canada and will end on 12/23. Please include your email address in all comments. Thank you to all who enter and good luck!
This giveaway is now closed and a winner will be announced momentarily. Thanks to all who entered!