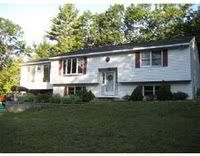 Today was a first. Not only did we entice one potential buyer to come and look at our
house
, but we managed to get
two
interested buyers to take a tour of our four bedroom two bath, w/ garage, w/ pergola, w/ privacy home at exactly the same time! This alone is nothing short of a miracle. I can hardly wait to get the feedback from my real estate agent. Actually, I am wondering what
new
reasons these buyers will come up with for
not liking our house.
Our for sale sign says, "impressive" - but so far, no one has really been too impressed with our impressive house. After three seasons on the market, I am starting to take offense with what some of these buyers are saying. In this crazy real estate market, buyers expect perfection at bargain prices. Sellers like us might as well be wearing a big "L" for loser on our foreheads.
Last summer, we finished our basement adding a bathroom and a fourth bedroom – no not for us, for the buyer! We also finished our laundry room and finished a little workshop area that is attached to the garage. One buyer liked our open concept upstairs but didn't like the downstairs. She expected more of the same open concept as we have upstairs. My advice to her is this -
Bedrooms and a bathroom don't lend themselves to the open concept concept. Impossible.
Next!
One couple was divided over our house. She really loved it - loved the yard, loved the layout of the house – loved it, loved it, loved it! We made special arrangements (special arrangements!) to be out of the house that evening so she could bring her boyfriend for a second showing. According to my real estate agent, "He did not like the house at all." Apparently, when they left the girlfriend was sulking. My advice to her is this -
Girl, it's all about you and what you want and if you're not getting what you want then kick him to the curb.
Next!
One older gentleman, who recently had a hip operation, came for a tour of our house. He and his wife would like to move to Ashburnham to be in the same town as their grandchildren. Awe! How nice! It sounds perfect doesn't it? It turns out because of his "bad hip" he doesn't feel he could manage to get up the driveway and up the stairs into our raised-ranch (code for split level). My advice to him is this -
Well sir, you drove by so you knew about our driveway, and you've seen pictures, so you knew about the stairs to get into the house. Next time, try to make your decision based on this type of criteria before you waste my time! Getting this place ready for a showing is torture!
Next!
One single mom came for a house showing a few weeks ago and really liked the house! She liked the upstairs. She liked the downstairs. She had no hip issues so getting into the house is not a problem. Here's the big but. B-U-T…. she felt the house location is too remote. Hello? This is our major selling point! (Or so we thought.) Privacy! My advice to her is this -
You can run outside buck-naked and no one would see you! My husband did it! I'm not kidding! Don't you want to be able to do that?
Next!
We thought we would sell this house easily. We've had the house staged and we finished our basement. What is left?
I think only Oprah can help us now. She could ask Nate Berkus to do a total interior re-design. People would flock for miles just to see our home. We would have bidding wars! I would have all of these buyers on the hook and I would tell my real estate agent, "Sorry, we decided to keep the house!"
(Oprah, if your reading this, I'm kidding. We would still sell the house and hopefully be able to borrow Nate to help us design the interior of our new house. Our lot is right next-door, so it would be pretty convenient. Thanks!)
Update! Just heard from our real estate agent. One of the two buyers canceled. I knew it was too good to be true. The good news, that one buyer did like our house, but I'm not holding my breath....yet.
Feel free to tweet this post with "Oprah she needs your help to sell her house."