If you are visiting the city of Boston with your young children, a trip to the Boston Children's Museum is a great way to spend your day. The museum is a private, nonprofit educational institution that has been entertaining and teaching children for over 90 years. It is located on Children's Warf, 308 Congress Street, Boston and is open every day from 10-5 (and until 9:00 pm on Fridays). We spent Tuesday of our April vacation exploring all of the interesting exhibits.
There is nothing like having an entire area devoted to making bubbles and the wetter, soapier and messier, the better! The boys tried to make a huge bubble by standing inside a ring, that was dipped in bubble solution, and hoisting up the ring by a pulley. No boy in the bubble here, it was harder than it looked! They had a blast using the large rings to make enormous bubbles. James was proud of his gigantic bubble that I caught in a picture moments before it met its demise.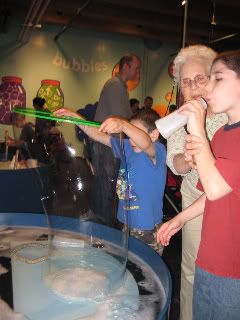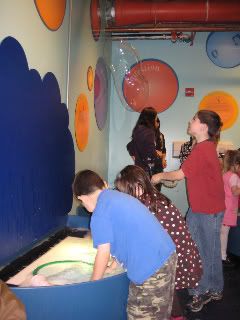 One of Ryan's favorite exhibits was the
New Balance® Climb
. This is a 3-story climbing sculpture made of brightly painted curved platforms that rise "like a fleet of magic carpets up the new glass lobby of the museum." Ryan loved making his way through the 3D, full body puzzle. I was afraid he would never come out! Can you see him peeking out at about mid-climb?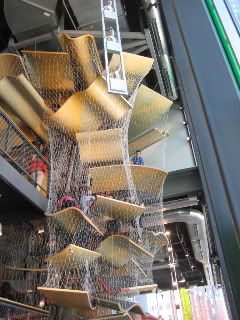 Peep's Big Wide World is WGBH's Emmy award-winning science program and one of only a few programs that my kids
still
enjoy. At the
Peep's World exhibit
"young explorers investigate the science of sand, the wonder of water and the amazing shapes in shadows." James and Ryan had a ball playing in the giant water and sand tables. Instead of wearing the protective water vests that the museum provided, they opted to get soaking wet! The waterfall at Catfish creek is shown in the picture below.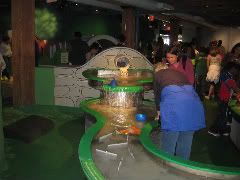 The kids were able to ride a real bobcat in the
Construction Zone.
Inspired by Boston's big dig, the Construction Zone is a kid-sized world of building. Ramps, tunnels, and bridges give children the tools to imagine a city in transition.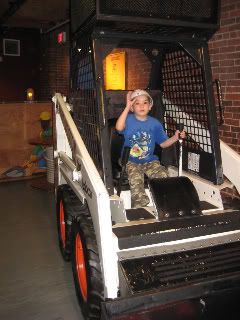 During the months of April, May and June the museum is featuring a
Curious George Let's Get Curious exhibit.
Based on the stories by H.A. and Margret Rey, this exhibit "inspires young children's natural curiosity as they explore early science, math, and engineering through hands-on interactive play." We see Curious George in his space-suit (hanging just below the exit sign). Ryan had fun climbing up, posing for a picture and sliding back down Curious George's space rocket.
Also part of the Curious George exhibit, the kids placed these foam cubes into a chute connected to a large conveyor belt that you crank to move them down the line. Finally our favorite three monkeys take a break for a photo.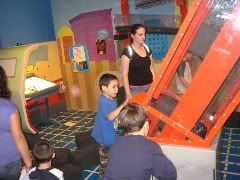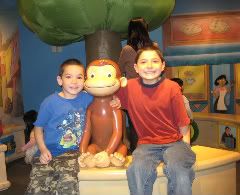 Other fun exhibits include the
Recycle Shop,
Arthur and Friends,
and the
Japanese House
, (a real house set-up within the museum).
When planning a visit, check to see if your local library participates in the
library membership
program at the museum. When you reserve a museum pass at your local (participating) library, the cost of admission is only $3 per person! For a list of participating libraries
click here!